Need to Fix Your Garage Door? Don't Panic! Check Out These Tips for Quick & Affordable Fixes in Queen Creek & San Tan Valley, AZ
August 22, 2023, by Blue Fox Garage Doors
What Can I Check if My Garage Door Won't Open?
Living in Queen Creek and San Tan Valley, Arizona comes with its share of challenges when it comes to garage doors. The hot Arizona sun can be tough on garage doors, and operating them can be a struggle, especially when they won't open.
That's why we've created this guide to help diagnose the issues you may be experiencing with your garage doors. We'll also discuss the prices you might expect when repairing garage doors in the Queen Creek and San Tan Valley areas.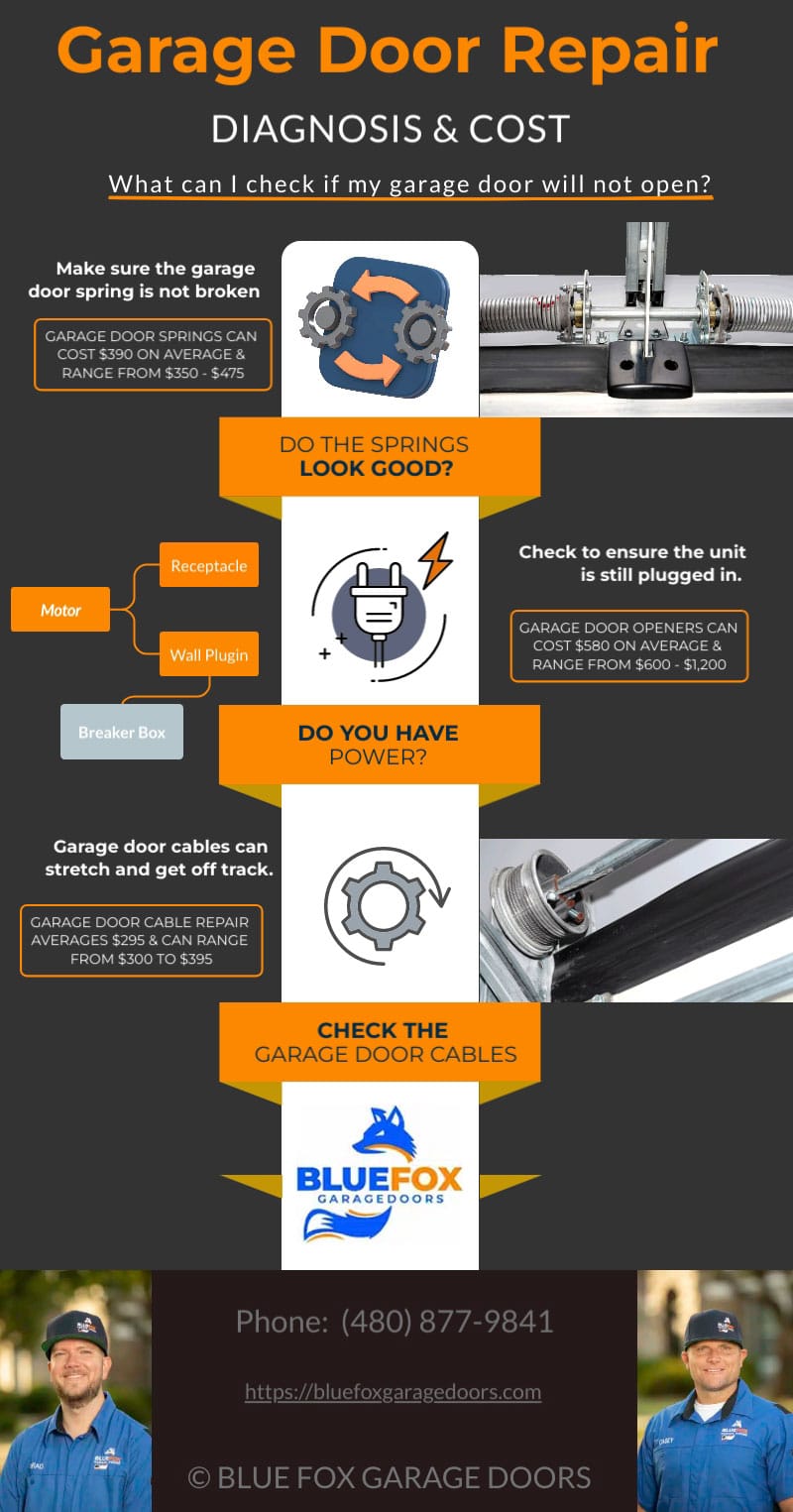 Things to check if your garage door is Stuck Closed
The first thing to check when your garage door won't open is the power source. Make sure that the opener is plugged in, and that there are no issues with your electrical panel or circuit breaker. You can also check to see if the batteries in the remote key pad need to be replaced, or if there are any physical obstructions on the tracks preventing the door from opening as well.
First Check Power of Breaker, Motor, Wall Plugin
Check the power source receptacle is plugged in and has no wire breaks or obstructions, the issue may be with the safety sensors located on either side of the door near the ground. These sensors are designed to detect any objects in the door's path and prevent it from closing on them. Make sure these sensors are properly aligned and free of any debris that could interfere with their operation.
Check Parts are Good – Cables, Springs, Rollers
Worn-out or damaged parts can also cause a garage door to malfunction. Look for signs of rust or wear on the tracks, springs, cables, and rollers. If any of these parts are damaged or worn out, they may need to be replaced. It's important to have these parts repaired or replaced promptly to ensure the safety and security of your home.
Prices to Repair Garage Doors in Queen Creek
When it comes to garage door repair prices in Queen Creek and San Tan Valley, the cost will depend on the severity of the issue and the condition of the parts that need to be replaced. On average, a garage door repair can cost anywhere from $170 to $650 and higher. The average hourly rate for a garage door repair in QC & San Tan is $65 to $175 per hour. It's important to get multiple quotes from reputable repair companies to ensure you're getting a fair price.
Queen Creek & San Tan Valley Garage Door Repair Cost
| Garage Door Repair Price Estimates: | Low End Price | High End Price | Average Hours of Labor |
| --- | --- | --- | --- |
| Spring Replacement: | $345 | $490 + | 1 – 2.3 Hours |
| Cable Repair: | $298 | $399 | 1 – 2 Hours |
| Motor Replacement: | $587 | $1,265 | 1 – 2 Hours |
| Door Panels: | $319 | $925 + | 1 – 2.5 Hours |
| Door Replacement | $1,479 | $9,000 + | 3.5 – 4 hours |
This chart is intended to give Queen Creek & San Tan Valley home owners the cost prices for repairing their garage doors. We look at the cost to repair specific parts of your garage door in your San Tan Valley or Queen Creek home.

Blue Fox Professional Garage Door Repairs
Finally, if you've exhausted all the troubleshooting options and your garage door still won't open, it's time to call a professional. A garage door repair specialist will have the tools and expertise necessary to diagnose and repair any issue with your garage door safely and efficiently.
Living in Queen Creek and San Tan Valley, Arizona can be tough on garage doors. From the sweltering Arizona sun to the wear and tear of daily use, garage doors in this area need proper maintenance and repair to function properly.
Remember to Check Power, Parts & Sensors
By checking the power source, sensors, and physical parts of your garage door, you can diagnose and even repair some common issues. If you're not comfortable with DIY repairs or if you're dealing with a more complex problem, it's always best to call in a professional.
With the information and tips provided in this guide, you can ensure the safety and functionality of your garage door all year long. Need garage door repair in Queen Creek & San Tan at affordable prices reach out today for a free quote.
Read also...