Unlocking the Cost of Garage Door Repair in Mesa, AZ – What You Need to Know
July 31, 2023, by Blue Fox Garage Doors
What is the price to repair my garage door in Mesa, Arizona?
Broken garage doors can be a real pain, especially in the scorching heat of Mesa, AZ. Unfortunately, they're a common problem for homeowners and businesses alike. To make informed decisions about garage door repairs, it's important to understand the various costs and factors associated with hiring a garage door repair company in Mesa, AZ.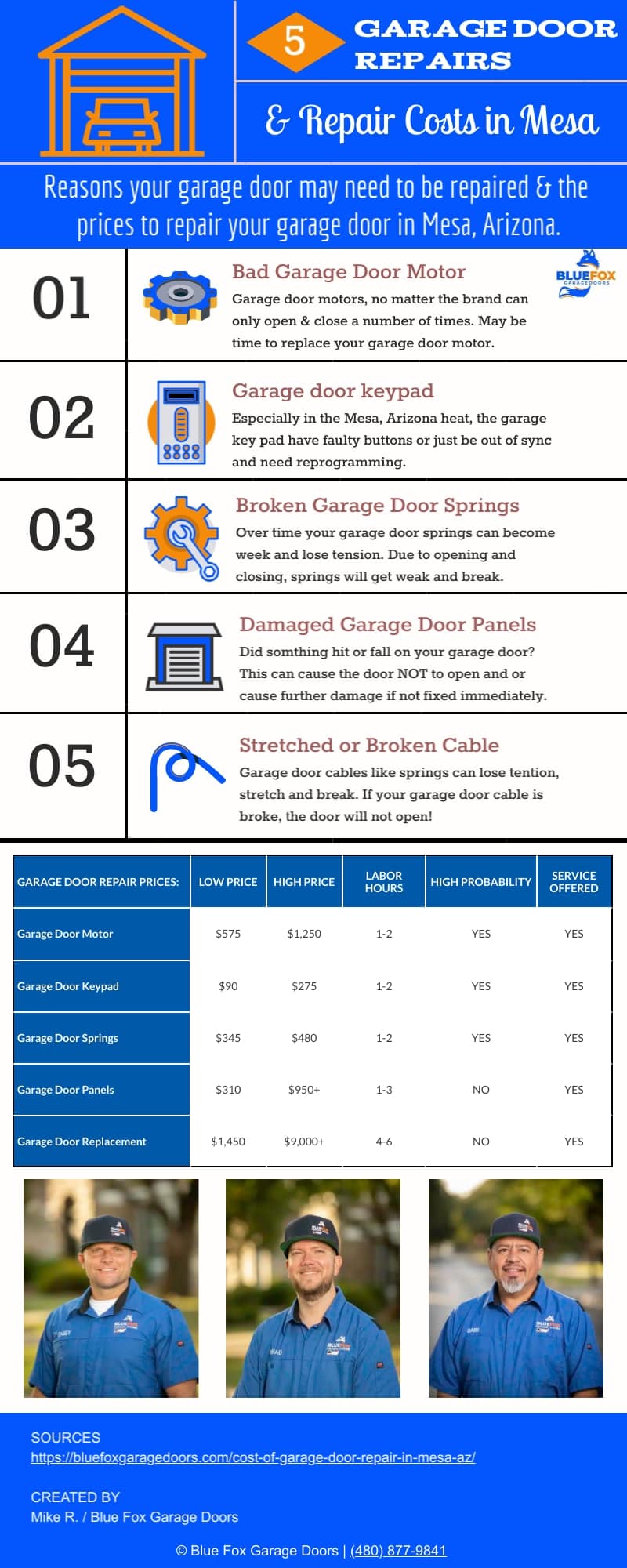 How much does it cost to repair my Mesa garage door?
Let's take a closer look at the cost of garage door repair in Mesa, AZ, and what you need to know to make the best decision for your property. Garage door repair estimates in Mesa can cost approx. $60 per hour to $150 per hour depending on the company and what they specialize in. Some Mesa garage door companies charge by the job. Typical pricing for complete garage door repair services in Mesa, AZ. Can cost anywhere from $1,450 to $9,000 and up.
Garage Door Repair Price Estimate:
Low Price for Repair:
High Price for Repair:
Labor in Hours
Service Offered
Garage Door Motor
$575
$1,250
1-2
YES
Garage Door Keypad
$90
$275
1-2
YES
Garage Door Springs
$345
$480
1-2
YES
Garage Door Panels
$310
$950 and up
1-3
YES
Garage Door Replace
$1,450
$9K and up
4-6
YES
TIPS & TRICKS: If you are experiencing your garage door not opening, be sure to research the possible issue and remember to only hire trusted garage door repair companies in Mesa, like Blue Fox!
How much is it, if my garage door is not damaged much?
When it comes to the cost of garage door repair near Mesa, there are several factors that can affect the price. These include the scope of the repair, the type of garage door, the age of the door, and the severity of the damage. For example, a simple repair such as replacing a roller, or a broken spring might cost between $325 – $475.
What if my door panels or opener is broken, what is the price?
However, if the door panel needs to be replaced or the opener needs to be fixed, the cost can range from $290 – $900 and up. Similarly, if you have a custom or specialty garage door or an older model, the cost of repair may be higher due to the unique parts and labor required. Some complete garage door system replacements in Mesa homes may cost upwards of 10k.
More factors that can effect your repair prices in Mesa, AZ
Another factor that can affect the cost of garage door repair is the time of day or week that the repair is needed. Emergency or weekend repairs typically cost more due to the urgency and availability of repair crews. Additionally, the cost of repair may vary depending on the company that you choose to work with.
How do I find the best garage door repair services in Mesa?
Be wary of companies that offer unsolicited or suspect discounts, as these may not be reputable or skilled garage door repair companies. It's always best to do your research and choose a trusted and experienced garage door repair company in Mesa, AZ.
Should I regularly maintenance my garage door to prevent repairs?
To save money on garage door repairs, regular maintenance is key. By scheduling routine inspections and minor repairs, you can prevent major damage and costly repairs down the line. Some of the most common maintenance tasks include lubricating moving parts, testing safety features, and replacing worn or damaged parts. You can also check for wear and tear, such as cracks or missing pieces, on a regular basis to catch problems early.
Understanding the cost estimate to repair your garage door
If you are experiencing issues with your garage door, it's important to understand the estimated costs associated with repair in Mesa, AZ. By considering factors such as the type of door, the nature of the repair, and the time of day, you can get a better understanding of what to expect from a repair technician. Remember to prioritize regular maintenance to prevent major and costly repairs. At the end of the day, choosing a skilled and reputable garage door repair company is essential for a quality repair at a fair cost. We hope that this post has helped unlock the cost of garage door repair for Mesa, AZ residents and business owners.
Read also...